Dress As A Skirt
Audrey Masitsa, 8 years ago
0
1 min

read
189
I love looking for new ways to wear my clothes. And one of the most brilliant ways of wearing a dress is as a skirt. This bustier dress was a gift from my sister and in spite of how much I love it, I must confess that this is only the third time I am wearing it. I styled it as a maxi skirt. I paired it with my white vest, black half coat and white wedge sandals. These shoes were part of my birthday present pack from The Man. I feel so lucky to have such an amazing man in my life. The scarf was in an attempt to coverup the decolletage (not a huge fan!) and I think it added just enough colour to the outfit.
My hair has started annoying me so it's back to plaiting, well at least as soon as I find an interesting hair style.
As I have mentioned twice before, I have taken a minimalist approach to life and I'm trying to incorporate this in my wardrobe. As such, I have started selling some of my pre-baby clothes. You can find them in my shop. Be sure to drop by.

Outfit Details:
Dress as a skirt: gift
White vest: New Delhi, India
Half coat: Chandigarh, India
Wedge sandals: gift
White earrings: Nairobi CBD
Bangles: gift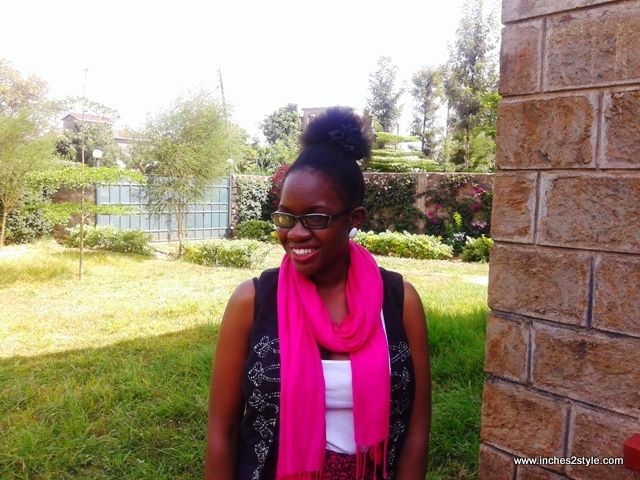 Thank you for reading.
Related posts
Subscribe
* You will receive a weekly newsletter from Inches To Style including most recent posts and videos, and musings on the latest happenings around the world.
Video: What I wore in a week
One of the things I promised myself I would do, ever since this pandemic started and life slowed down, is that I would dress up every single day. Granted, I had nowhere to go, but putting on an outfit, no matter how simple, uplifted my…