Blues, Whites And Prints
Audrey Masitsa, 9 years ago
0
2 min

read
187
Wearing monochromatic colours always gives the illusion of being slimmer than you really are. I chose to go with blue for this outfit worn last week when I was taking Elly to the clinic. These navy blue ankle length pants have been a favourite since I became a mum. Because I had a Caeserean Section, I could only wear high waisted trousers or skirts so I was pretty excited when I got these. The shirt is an oldie but still a favourite. The fabric contains a bit of stretch so it fits beautifully post-baby.
I chose white accessories to complement the blue and white printed shirt: white loafers which were a gift from The Man and a tote (which I use as a baby bag) which was a Christmas gift from my brother (who made this website by the way). This light purple lipstick, which is more like lilac/lavender is a newly discovered favourite. When I bought it I didn't particularly like it but over time I have grown to love it. I like to wear it when I want a subtle, glammed up look.
I went out of my way to style my hair, yeah, I'm lazy like that. This was day two of my hair styling challenge. If you want to see more of my hair styles, be sure to follow me on Facebook and Instagram (@inches2style) for daily updates.
 
Do you sometimes turn to monochromatic colours when you want to cheat your mind that you are slimmer? What are your go to colours? Do share in the comments below.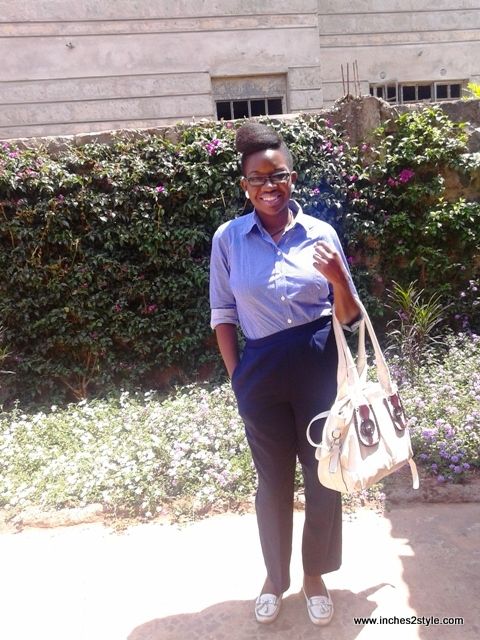 Outfit Details: 
High-waist trousers: Thrifted (Toi Market)
Shirt: Gift 
Loafers: Gift 
Tote Bag: Gift
Earrings: Nairobi CBD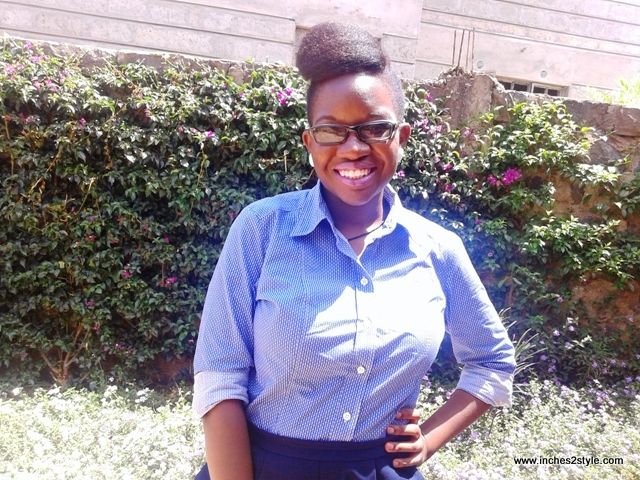 Thank you for stopping by.
Related posts
Subscribe
* You will receive a weekly newsletter from Inches To Style including most recent posts and videos, and musings on the latest happenings around the world.
Video: What I wore in a week
One of the things I promised myself I would do, ever since this pandemic started and life slowed down, is that I would dress up every single day. Granted, I had nowhere to go, but putting on an outfit, no matter how simple, uplifted my…